THE ENT CENTER FOR THE ARTS IS MORE THAN JUST A STUNNING BUILDING ON THE BACKDROP OF THE UCCS CAMPUS.
This first-class arts facility, located on the University of Colorado Colorado Springs campus serves the community as a hub for the arts and an inspiration in academics. The vision for the facility was and is to foster a creative environment to house arts that will serve the Pikes Peak region, allowing artists to inspire and amplify one another rather than compete against one another. Art brings together diverse peoples and ideas in ways no other discipline can, and the Ent Center will be a pillar of the arts community within Colorado Springs.
In 1975, Theatreworks founder Murray Ross came to UCCS to start a theater program. Determined to establish a landmark artistic hub for both UCCS and the entire Pikes Peak region, he turned a small troupe of thespians into one of the best professional theaters across the Front Range. As the years and great productions went on, Ross presented his idea for an all-encompassing community arts space to house Theatreworks and more. With dedicated help from UCCS Chancellor Emerita Pam Shockley-Zalabak, Ross and nearly 100 community collaborators helped secure the vision of the Ent Center in 2015, marking another milestone for the arts in Colorado Springs. Colorado Springs and the Ent Center are proof that cultivating a rich arts scene takes a village.
This facility opened in 2018, but had solid arts foundations within the Theaterworks program (founded in 1975) and the Galleries of Contemporary Art (founded in 1980), both of which now operate within the Ent Center for the Arts.
On Aug 13, 2015, we broke ground on our transformative center.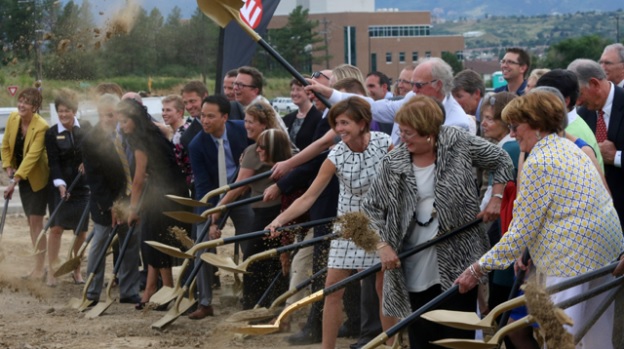 This huge feat began as a dream in the 70's, drafted and planned by 2012 with Chancellor Emerita Pam Shockley-Zalabak, supported by a strong leadership team, and several community partners including over 800 generous donors. The founding team wanted Ent Center for the Arts to represent a collaboration among artistic disciplines. 
Our center belongs to the community, and we look forward to sharing with you rich and diverse artistic experiences.